How to Bring Your Family to Canada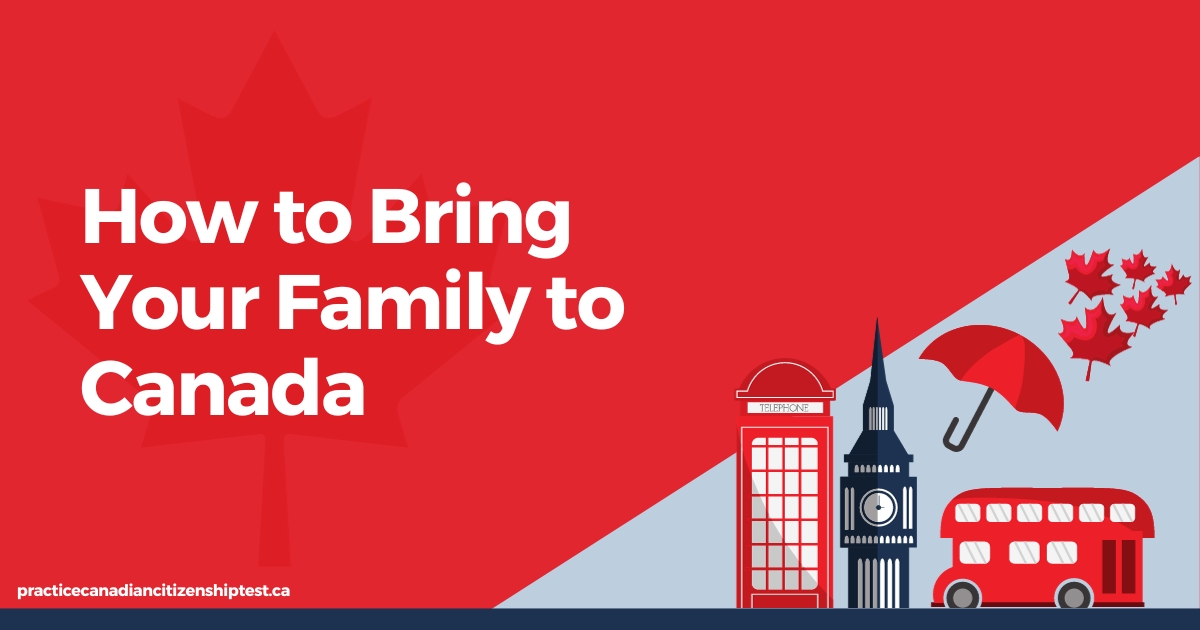 Canada Immigration has various programs where you can sponsor your family members as a resident or citizen. This is called family reunification and allows you to sponsor your family member. It can be your parents, grandparents, siblings, kids, spouse or your partner. However, this program isn't just limited to the people who are either permanent residents or have successfully passed the Canadian Citizenship Test and are now Canadian nationals. If you are in Canada as a student or as a worker, you are also eligible to sponsor your family members. In this blog, we will discuss family sponsorship in detail.
What is a Family Sponsorship
Once you have achieved the status of permanent resident or citizenship in Canada, you can bring a few of your family members to Canada. This is called family sponsorship. Following are the categories of family sponsorship
1. Sponsoring Your Spouse or Common Law Partner or Conjugal Partner
Sponsoring your spouse, common-law partner, or conjugal partner to join you in Canada is a significant step toward reuniting with your loved one. Whether you are legally married, in a common-law relationship, or in a genuine conjugal partnership, you can apply to bring your partner to Canada. You can also sponsor the dependent child of your partner.
2. Dependent Child
If you have a biological or adopted child who is not married or in a common-law relationship and is under 22 years of age, that child is eligible for family sponsorship. Additionally, a child who is over 22 years of age but is physically and mentally dependent on their parents can also be sponsored by their guardians or parents.
3. Parent and Grandparent Sponsorship Program
The Parent and Grandparent Sponsorship Program in Canada has a limited number of spots available. You need to submit an online form to sponsor them. Immigration, Refugees and Citizenship Canada (IRCC) conducts draws every year and selects a small pool of people out of many and invites them to submit a formal application.
Many people can't secure this spot in the sponsorship program for their parents or grandparents. IRCC introduced the Super Visa for Parents and Grandparents. This visa is valid for up to 10 and is a multi-entry document. Thanks to Super Visa, your parents or grandparents can stay in Canada for up to 2 years. Keep in mind that a super visa doesn't make them eligible for permanent residence, unlike the Parent and Grandparent Sponsorship Program.
Temporary Permit & Accompanying Family Members
If you come to Canada on a temporary work permit, you are allowed to bring a family member with you.
Temporary Workers
If you get a job offer letter in Canada. You are eligible to apply for a work permit and bring your spouse or dependent to Canada. Your kids also won't need any study permit to study in Canada. Your spouse or partner will also be eligible to apply for an open work permit.
Study Permit
If you get admission to any Canadian school or university, you can apply for a study permit. You are also eligible to bring your spouse, partner or kids. Canada gives the right to your spouse to apply for an open work permit and your kids to study in school without any need for a separate study permit.
Accompanying Your Child as an International Student in Canada
If the child is under the age of 18 (a minor) and has been accepted into a Canadian school and there is no one to take care of him then in that case, parent or guardian can accompany him/her. For this, the parents need to apply for the visitor record. This record demonstrates that the child has someone responsible for their well-being.
If the child is 18 years of age or older or has a family member in Canada who can take care of them, the parent or guardian cannot apply for a visitor record. In such cases, the child can still apply for a study permit on their own.