A Step-by-Step Guide to Become a Canadian Citizen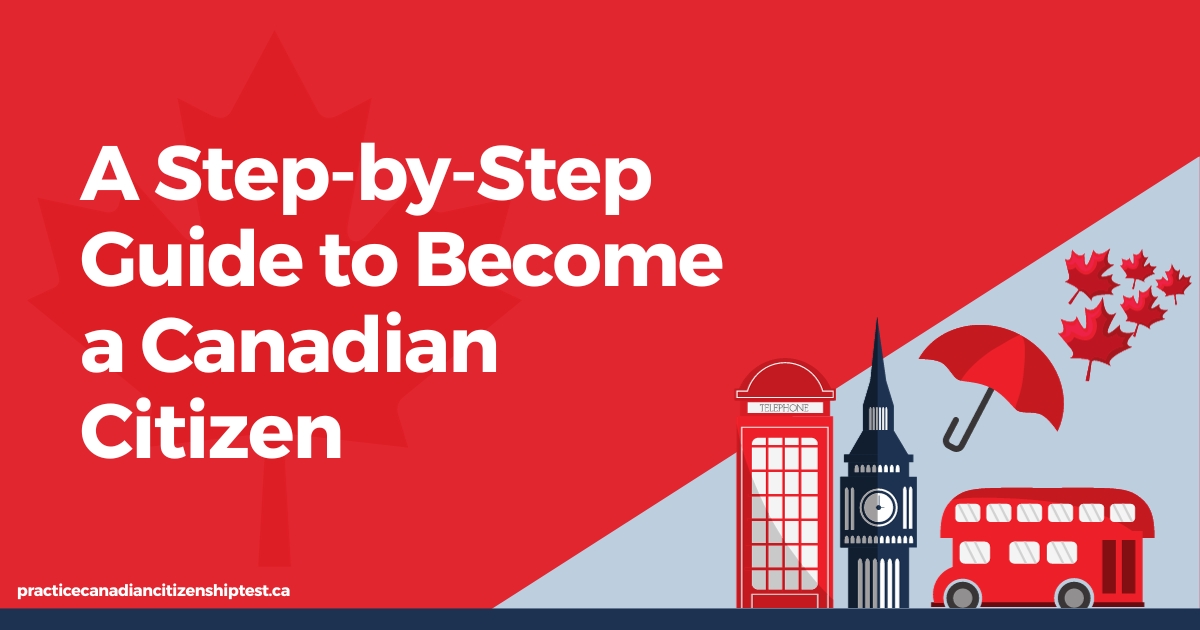 Getting a status as a Canadian citizen opens vast opportunities in Canada as compared to the status of a Permanent Residency. Many immigrants, after getting PR, start applying for Canadian citizenship. However, this process is lengthy and can be daunting for many people. To navigate the maze of this challenge can be frustrating and confusing.
Eligibility Criteria>
Let's start with eligibility criteria because it always comes first when you start your application process. There are criteria requirements you have to meet to become a Canadian citizen. You need to be 18-64 years of age and have lived in Canada as a permanent resident for 3-5 years. You should also spend at least 1095 days in Canada in the last 5 years unless you are authorized by Immigration, Refugees, and Citizenship Canada (IRCC) to move overseas due to work.
Financial Requirements
You must have filed your taxes for at least 3 years within the 5 years if required under the Income Tax Act. You should meet your personal income tax obligations in terms of filing, paying any taxes owed, and filing on time.
Language Proficiency
English and French are the national and official languages of Canada. You need to demonstrate a proficiency level of at least 4 in either of these languages and provide proof for it. If you are from an English or French country and have completed your high school or university credit hours in either of these languages, you can also show your degree, transcript or diploma documents as proof.
Background Checks
Applicants also need to show good character while living in Canada. This means that they should neither get involved in any criminal activity nor get charged with a legal offence. If you have any legal penalties, it is better to resolve them before applying for Canadian Citizenship.
In the end, you will have to take an interview with IRCC officials. You have to be honest about your personal life, employment history, and educational background. Giving wrong information about yourself can lead to the cancellation of your citizenship application.
Keep in mind that third-party organizations including police departments or foreign governments can verify your background checks for credibility and it might take a lot of time.
Apply Online
When you meet all the eligibility criteria, you can visit the official Immigration, Refugees, and Citizenship Canada (IRCC) website, make your account and upload the original required documents including passports, photos, etc. Giving wrong or missing information can delay your application process.
The next step is to upload the receipt of your fee payment. The amount of the fee varies. It can be more if your immediate family is also applying with you at once. In such cases, IRCC will require additional documents.
After submitting the document, IRCC will review it. If you are eligible, then you will be asked to take the Canadian Citizenship Test.
Canadian Citizenship Test
The Canadian Citizenship Test is compulsory. The test is computer-based with 20 MCQs and assesses your knowledge regarding Canadian history, geography, symbols, values, rights and responsibilities of citizens, legal bodies, historical figures, etc. The exam is challenging but don't worry, studying from reliable sources including Discover Canada: Rights and Responsibilities of Citizenship can help you in understanding the syllabus content. You can find this book for free on the official website. Additionally taking multiple attempts of the Practice Canadian Citizenship Test can also enhance your preparation. Many of these mock quizzes are free of cost.
In some cases, few of the applicants are called for an interview. It is important to also learn about how the local community in the vicinity works. Applicants also need to study about their local representatives (MPs/MLAs) and the nearest polling station, etc.
Canadian Citizenship Application Process Time
Immigration, Refugees, and Citizenship Canada (IRCC) is responsible for reviewing and approving applications. They might take a few months to two years depending on the applicant's case and volume of applications. Sometimes due to natural disasters, they might take a long time to process your applications e.g. during the days of the Covid-19 pandemic. However, this is very rare.
Canadian Citizenship Status
When an applicant has passed all the background checks, financial requirements, Citizenship test, and other eligibility criteria then he/she is in luck. Now applicants will receive a notification via mail or email that they have been granted Canadian citizenship status. They will also receive the invitation to attend the Citizenship Ceremony. Attending this ceremony is mandatory as you will take the pledge and oath to become a responsible Canadian Citizen.