What Happens After Canadian Citizenship Test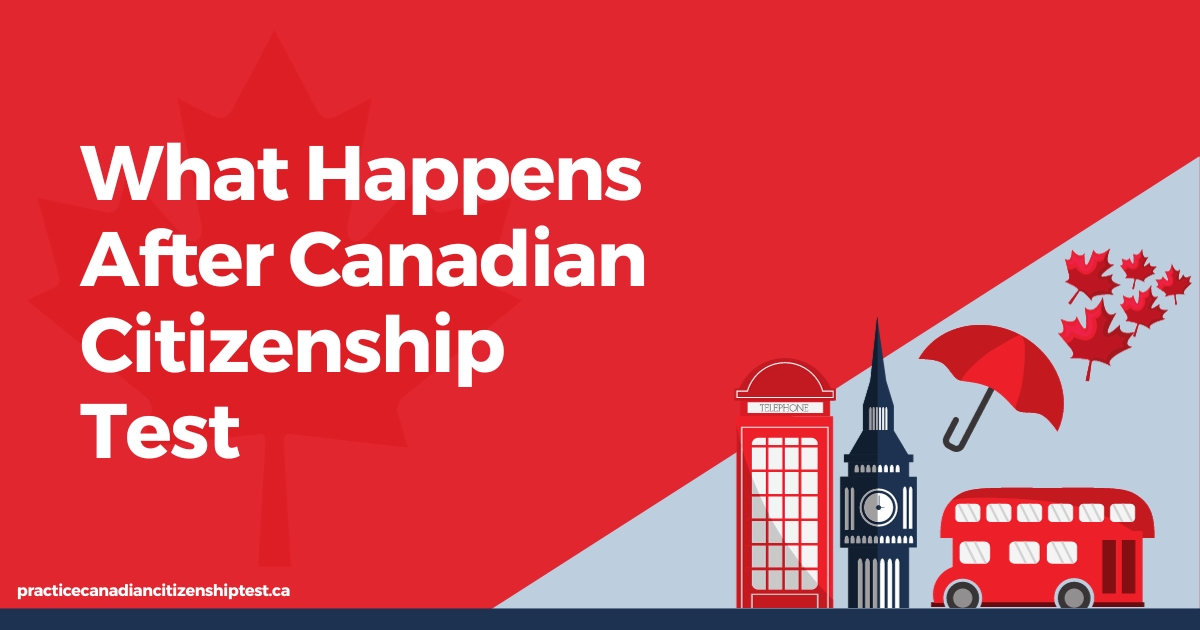 Does taking the Canadian Citizenship Test make you eligible for Canadian Citizenship? Well, the short answer to this question isn't just yes or no. Canadian Citizenship is important but so do other eligibility criteria that you need to pass before taking the test. In recent decades, many immigrants have started to move to Canada for various reasons. A few of the main reasons out of many are good life quality, quality education, security, and economic stability. Canada had to make the screening process a bit tough so that people who want to become responsible citizens can get their nationality.
Not everyone can become a Canadian. People need to meet certain criteria for it. You should be 18-65 years of age, hold a PR status and have lived in Canada for 3-5 years. An applicant has to maintain a good moral character with no charge of any legal offence. To apply for citizenship, you have to visit the official website, sign up and upload the required documents. When this process is completed and approved by IRCC, you are eligible to take the Canadian Citizenship Test.
What is the Canadian Citizenship Test?
After getting your Permanent residency and fulfilling all the eligibility requirements, you will get the opportunity to take the test. The test is not as easy as it sounds. There are 20 MCQs that are selected from a random database. The test determines how much you know about Canadian laws, government laws, legal bodies, democracy, monarch, responsibility of citizens, geography, elections, etc. You also need to learn English or French to take the test. You have 20 minutes to complete the test. The minimum number of questions that you can answer with precision is 15.
In case you didn't score well on the exam, don't worry. You just have to prepare more. Understanding the underlying concepts from the reliable source Discover Canada: Rights and Responsibilities of Citizenship rather than rote memorization can help you ace the exam in further attempts. To reveal your level of preparedness, you are always welcome to take a free practice Canadian Citizenship Test before the actual exam.
Citizenship Ceremony
Candidates who aced the Canadian Citizenship Exam (and interview in some cases) are invited to attend the Citizenship Ceremony. They receive invitations through mail or email address. Attending this ceremony is mandatory for all invited people. During this ceremony, invited people take an oath in English and French to pledge allegiance to Canada's monarch Queen Elizabeth II and her descendents. People also take an oath to become a responsible citizen. This includes honouring human rights, following all the country's rules and regulations, paying taxes, voting in elections, engaging in civic life and making this community a better and safer place for people.
''I swear (or affirm) that I will be faithful and bear true allegiance to Her Majesty Queen Elizabeth II, Queen of Canada, Her Heirs and Successors, and that I will faithfully observe the laws of Canada and fulfill my duties as a Canadian citizen.''
During this ceremony, people also interact with officials representing IRCC or local dignitaries, such as mayors who give speeches. There is music and also a flag-raising ceremony. In the end, people get their citizenship certificates which is an overwhelming and emotional moment for everyone.
What Happens When You Become a Citizen?
When you receive your Citizenship Certificate, you can use this document for official purposes e;.g applying for a passport and voting in different kinds of elections. You can also apply for certain jobs that are only open for Canadian nationals e.g. joining the armed forces.
You also get access to a Canadian passport which is the strongest passport in the world. You get visa-free entry to a lot of countries. Canadians can also live overseas without losing their status. Immigrants who get Canadian CItizenship can also keep their dual citizenship.
As a Canadian, you get access to certain social benefits like unemployment funds, health care coverage, and educational funds in the form of scholarships or loans. Canadians can also sponsor their family members like siblings, spouses, parents, grandparents, and dependents.