Why Choose Us for the Canadian Citizenship Test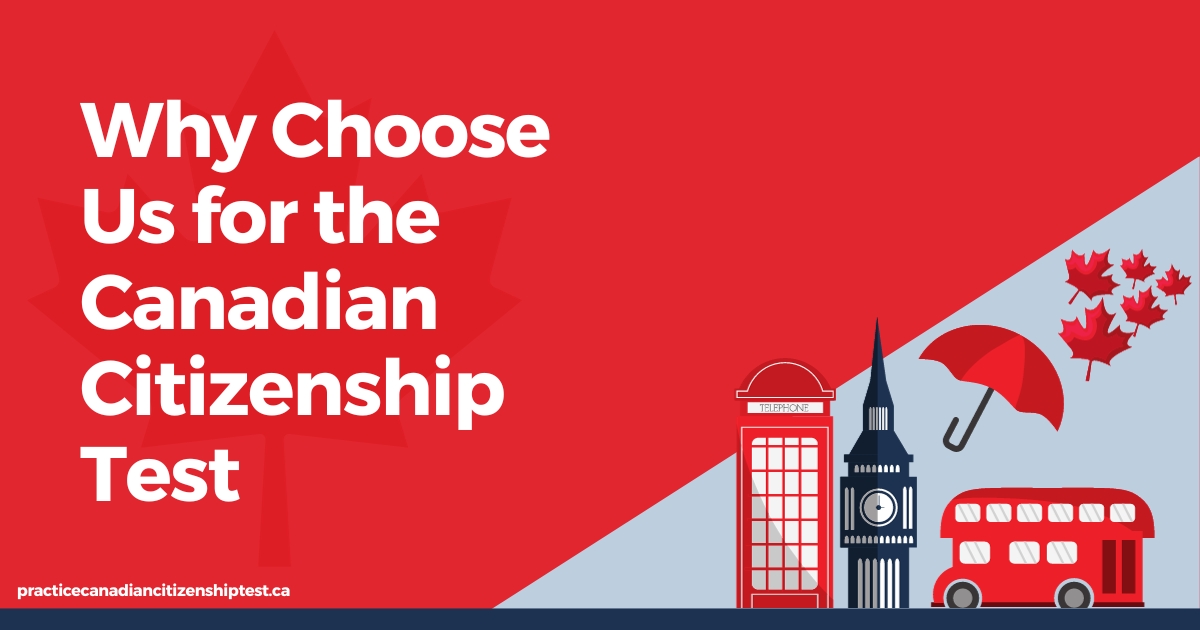 Canada is a huge country with countless opportunities whether it's a business venture, education, healthcare or jobs. Hundreds of immigrants migrate here with a dream to call this country home permanently. The country offers no racism and welcomes people from different backgrounds. Getting nationality in Canada has now become easier. First, you need to fulfil the eligibility criteria to get PR and then you have to take the Canadian Citizenship Test.
Our platform is the most trusted and can help you prepare for the exam by offering various features.
Practice Tests
Canadian Citizenship Test is a computer-based test with 20 challenging MCQs that are randomly selected from the data-based. Keep in mind that it is very rare for questions to get repeated from previous exams. Memorizing the whole course is important. The most reliable source of preparation that you need is Discover Canada: Rights and Responsibilities of Citizenship booklet. The guide is government-approved and can be found online in PDF form for free.
Our platform also offers free practice Canadian Citizenship Test to enhance your preparation. The tests are designed to mimic the actual exam. It isn't necessary that you might encounter the same questions in the Citizenship Test but most of the questions have the same underlying concepts.
It is usually recommended to take many mock tests. Mock quizzes are an essential and valuable tool. They help you bridge the gap of knowledge. They also let you know your weak areas so that you can work on them. Those candidates who have passed the Canadian Citizenship Test also recommend taking as many mock tests as possible.
Try to take practice tests in one setting and manage the time of solving each question. Isolate yourself from all auditory and visual distractions. This will help you to analyze the conceptual questions.
Diverse Question Bank
Our question bank offers hundreds of MCQS that are distributed in different chapters/sections. This will help you in your streamlined preparation. We recommend preparing a particular chapter from the official guide and then taking the test with us of the exact same chapter. Our question guidelines match the standard of the guidelines set by the official book. We make sure that our questions are updated with respect to the Discover Canada booklet.
Unlimited Free Tests
You don't need to spend a hefty amount of money on test preparation and practice tests. Applying for citizenship already costs so much. Unlike other practice tests online, our platform offers free practice tests.
No Registration Needed
You don't need to sign up to take the test. Our platform is user-friendly and can be accessed at any time and anywhere. All you have to do is click on the ''start now'' on our home page.
Instant Feedback
Thanks to instant feedback, you don't need to wait till the end of the test for the result. You get real-time feedback at the end of every question that you answer. Our platform also rectifies the wrong answer that you selected and gives a clear and simple logical explanation. Grasping the underlying concept of every feedback can help you retain the answers for a longer duration of time.
Challenge Bank
We also offer a challenge bank section that stores the questions that have challenging answers. These questions stay here for you to practice whenever you have time. It is like your personal repository. Practising challenging questions can help you grasp concepts.
Bottom Line
There are many coaching classes or institutes that offer extra material for Canadian Citizenship Exam preparation. However, they are expensive and not everyone can take out time of their busy schedule to visit such coaching classes. We also recommend candidates utilize all the free resources including the official and updated guidebook and free practice tests. In order to ace the exam, all you have to do is grasp all the important concepts from the book rather than doing rote memorization and implement them in mock tests.