Why Should I Migrate To Canada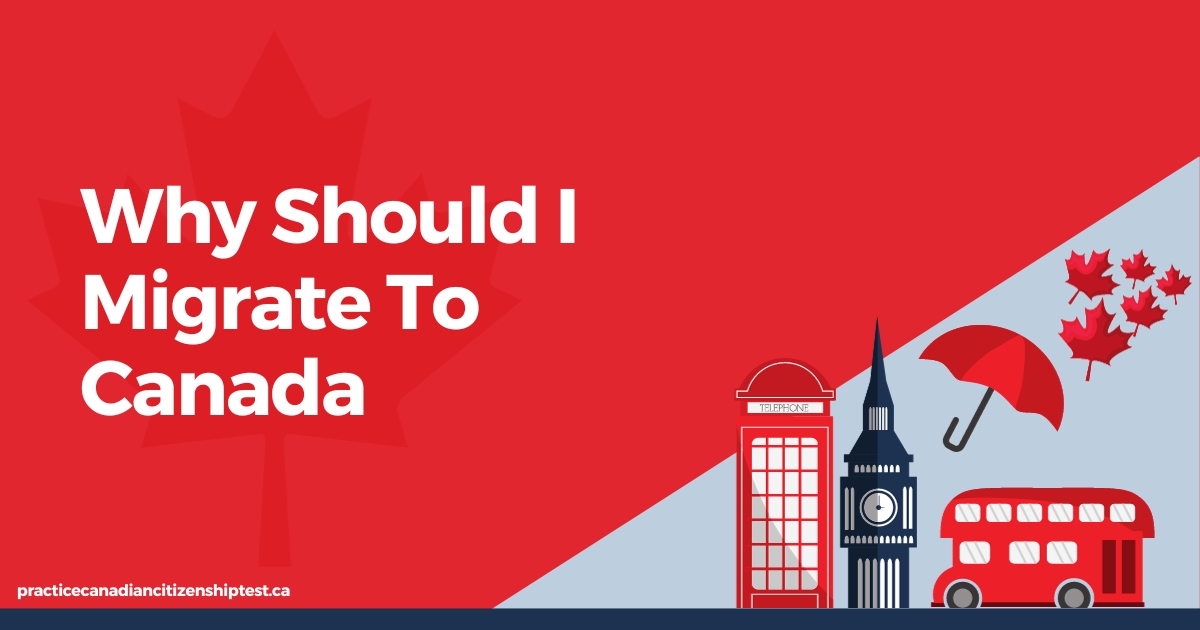 According to the 2023 Ranking, Canada is among one of the best and most popular destinations that has attracted many immigrants from all over the world. Many people dream of becoming a part of this nation due to the diversity in culture, high quality of living standard, various career opportunities, breathtaking landscape and high tolerance in the community.
People have been migrating to Canada for many decades and the number keeps doubling every few years. Now the question is, do you want to migrate to Canada based on authentic reasons? Here we will discuss what Canada can offer if you plan to live there permanently.
Career Growth
In Canada there is potential growth in any field you choose for your career because the country is always at the forefront in the various industries, offering ample job opportunities. The unemployment rate is low. The Covid-19 epidemic has left vacancies in various industries that haven't been filled. One of the reasons that Canada has opened the door to migration is to fill these jobs as there is a labor shortage.
Canada also depends on immigrants to address its population growth as it boosts the country's economy and contributes to its GDP growth.
Quality Education
In Canada, education is considered a fundamental right. Education in various public schools is free and there are compulsory schooling laws that guarantee that every individual gets the chance to get an education without feeling any discrimination based on gender, religion or nationality.
Canada is one of the most educated countries. Almost a significant portion of its population (56%) has pursued some form of post-secondary education. This shows the country offers top-notch education and commitment to the process of learning, and helping its people.
Canada not only emphasizes primary or secondary education but also provides extensive opportunities for post-secondary education. This also means that international students can have access to higher education including Bachelor's, Master's, PhDs and Postdoctoral education. Students also have access to various programs including diplomas.
Canada has always been the most attractive site, especially for education for international students. International students can choose the university that they like, and apply in their favourite fields. The education cost is much lower as compared to other countries e.g. UK. Studying in Canada can also open doors for international students to apply for permanent residency and then later, make them eligible for the Canadian Citizenship Test to get Canadian nationality.
Quality HealthCare
In Canada, access to healthcare is a fundamental right of every resident and citizen. The national health insurance system in Canada ensures that no one is denied health care due to financial cost. Canada operates on a decentralized healthcare system where each province and territory has its own healthcare plan. Every state in Canada has its own healthcare insurance system.
Lower Crime Rate
Canada has a much lower crime rate as compared to other countries in the world. E.g the rate of gun violence compared to the US is very low in Canada. According to the Global Peace Index, Canada holds the 10th position as the safest country.
Stability
Many immigrants migrate from third countries to Canada due to stability. There is a stable political system and no corruption in democracy. There is also social cohesion. People here are from different backgrounds but even then there is respect for other people's culture.
Canada also has a stable and thriving economy. This is the reason that the country was able to survive in Covid pandemic of 2019. In 2023, Canada became the country with the 9th largest economy with a GDP of US$2.089 trillion.
Canada's Pro-Immigration Stance
Canada's pro-immigration stance has welcomed newcomers and also addressed the labour market needs. To facilitate the migration process, Canada has open Express Entry and Provincial Nominee Programs (PNPs).
In Express entry immigrants are eligible to select the state that they want to migrate to (in Canada). The Express Entry pool is free. The PNPs are the initiatives by Canadian provinces and territories to select immigrants who meet specific local labour market needs.
Bottom Line
Canada has shown stability in its economic growth, education, and healthcare. The country has also made the immigration process easy for people living all over the world. Hence, the country has attracted thousands of immigrants from different parts of the globe.